A Little Look Inside The Maker
Craftsmanship and a great work ethic are elements Joe learned organically growing up. His family tree is filled with various hard working tradesmen that have shaped him into the person and maker he is today.
After discovering that true happiness does not translate directly from annual monetary earnings he decided to change course and invest in a more meaningful future. In the end a smile can not be bought or sold, so it must be earned through hard work and dedication to a craft.
From his life's relationships and experiences, he has gathered skills and knowledge in his head and hands. He now applies them creatively producing out of his studio CAUV Design in Red Hook, Brooklyn. He sees designing and making as ways of consistently testing, improving and expressing himself, and invites you to contact or visit him to discuss your next furniture or custom interior architectural metalwork needs.
Pledge to Give Back
I Strive to Primarily Use Hardwoods Obtained thru Sustainable or Natural Sources When Creating My Designs.
On top of that: For Every Piece Sold a Donation is made to an Organization that Focuses on Planting Trees in National Parks that have Suffered Losses Due to Disease, Insect Outbreaks, and Wild Fires. Every little bit counts and this will seek to Ensure a Vibrant Future with Green Spaces for Animals and Humans Alike.
Purchase a Piece = Plant Trees
Previous Commercial Clients
GOOGLE
La NewYorkina
1Kreate
geben Communication
ECRANE
Kaufman development
A Few Select Custom Pieces
TESTIMONIALS From Clients
Gonnella Wine Fridge Unit
"CAUV Design. Joe (owner) is incredible. He is truly an artist and a great human being. We wanted to build a custom wine cabinet - Joe went through several rounds of sketches with us, measured every inch of the space and personally delivered (and helped setup) a beautiful final product. From start to finish, Joe was professional, kind and diligently executed every detail of the project. I cannot recommend Joe and his work enough."
- Chris Gonnella
Brooklyn, NY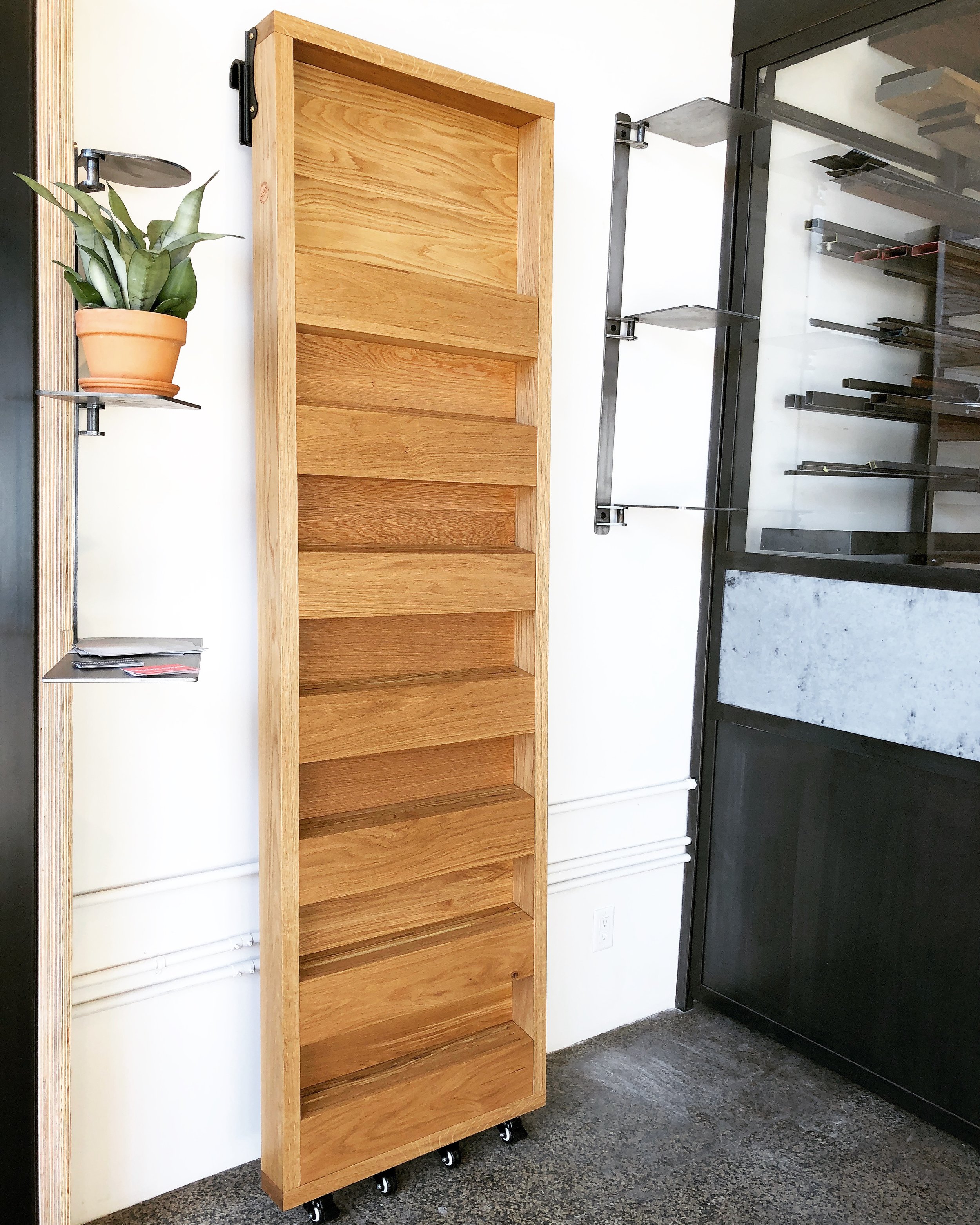 Scribner Door/Ladder
"Joe is incredible. I found him through Instagram. I needed to find a very specialized and creative kind of maker. Someone who worked with wood and steel and wasn't afraid of a challenge. I wanted to commission a sliding ladder door for my kitchen. It needed to cover the washer dryer in it's resting position (I know girl. It's kinda white trash to have your W/D in the kitchen, hence the need for fierce and functional camouflage) and otherwise act as a ladder that would slide across the kitchen wall on casters and enable access to the out-of-reach upper cabinets which rise to the ceiling, which are 12 feet high (💅🏽I know right?). Here's the thing about sliding ladder doors: They don't exist. It had to be custom and had to be made by someone brilliant. Enter Joe. I came into Cauv with my 2 architect friends with back-of-the-napkin drawings. We came up with a few options and Joe was so patient, had great input and together we came up with a plan. What Joe manifested was even better than what I had envisioned in my mind! He was thoughtful throughout, sending photos and updates as he built the piece, as if he was hand feeding and rearing a prized doodle baby show dog. I was so happy to see the updates as the gorgeous ladder-door hybrid came to life! He takes such great pride in his work and is a master craftsman. I'm so happy with the result, it has really tied the place together and functions perfectly. It's a form and function love fest. Get into it."
- Garen Scribner
Brooklyn, NY
"CAUV Design. There's not enough I could say about Joe (owner) and his work.
I had been looking many months for someone who could not only use wood for custom pieces, but also incorporate metal work. I have a shop where the feel is very modern industrial. So metal and wood are a big part of the space. I came across some of his work and was like "THIS IS IT!". I reached out to him, and he was happy to hear about the project and he met me right on site. I gave him my vision in detail. After talking with him, I immediately knew he was the right guy for the job. He is passionate, talented, attentive to detail, and creative. I needed someone who would take my vision and run with it. As we started the project he laid out the pieces for me and gave me more ideas and suggestions to take it to the next level. The epitome of professionalism. You can tell he has an eye for detail and makes one of a kind world class pieces. The end result was insane. I couldn't be more happy with the job he's done. I highly recommend CAUV Design. You shall not be disappointed."
-The Flying Gent
" Joe is very knowledgeable and was extremely helpful during the whole design/planning process. He had great ideas and recommended things that I hadn't thought of. The table BLEW my wife and me away! We are so happy with it. The quality of the steel framing and Joe's woodworking abilities really shine. He spent a lot of time getting the table to be just right, and it shows. Not a single weld is visible and the finish on the frame and wood top is perfect. "
"Now my wife and I just have to figure out to do with the rest of the room because it is not worthy of our table!"
"Thanks Joe... we will 100% be coming to you for future furniture needs!"
- Benjamin Miller (Ben's Steel/Reclaimed Beech Dining Table)
"Joe was able to take a few pictures and my ideas and create a beautiful loft bed for our sons. He delivered the product and showed my husband how to set it up so we could move it in the future if necessary. The process was great, with no complaints."
- Nancy Blake (Custom Twin Loft Bed)